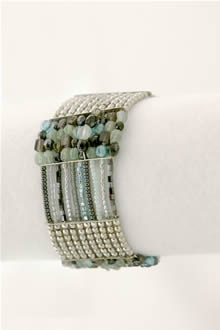 Bracelet (B-37)
$17.95
Jewllery bracelet. A smaller cuff in an interesting mix of pistachio , mint , crystal and grey coloured beads. Stretchy
24 in stock
Product Description
Jewellery Bracelet
This Bracelet is part of the Day Range. It is one of those I bring in from South Africa  and all pieces are at a competitive price.  The range is forever expanding as new pieces arrive.
There is a wide range of jewellery with styles inspired by the beauty and magic of Africa. While not ethnic, the basis of the collection marries African traditions with contemporary fashion. The styles range from elegant to funky.
The jewellery uses almost every conceivable colour, bead type and shape. It including ceramics, glass, wood, shell, metal and even recycled paper.
I started to import things from Africa about 10 years after I spent two years living in South African.
While in South Africa I became aware of the importance of beadwork to the local cultures and of the amazing work that was being done. I first brought back some jewellery to find out the reaction of people here. Following that I formed my own company and now import a number of different ranges .However, I am Australian, as is the Company.
Where possible I prefer to buy from suppliers who are members of the World Fair Trade Organization (WFTO).
This bracelet is only one example. There are many others, including necklaces and earrings.
In addition, a percentage of my net profit goes to support African wildlife projects. At present these include The Cape Leopard Trust, Chimfunshi Chimp, and the International Fund for Animal Welfare (IFAW) Elephant Orphanage Project in Zambia.
Some of the comments I have received but from clients are :
"My parcel arrived today and is absolutely beautiful. J"
"Thank you for the timely and prompt manner in which my order was processed."

"Looking forward to doing business with you again."
 I hope you enjoy the range as much as I have enjoyed putting it together
Additional Information
| | |
| --- | --- |
| Weight | 0.06 kg |
| Dimensions | 8 x 4 x 3.5 cm |