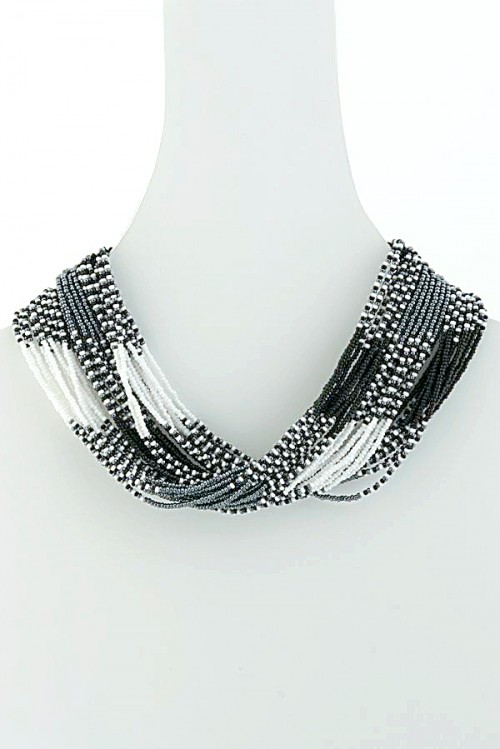 Bedford (DNB34)
$175.00
Designer Beaded Necklace: Dramatic black and white mix. Make a statement. Length+-60cm/23.5″ Handmade by Zulu Master Beaders.
1 in stock
Product Description
Bedford Designed Necklace
Jane Bedford jewellery is the top of my range. They are quality designer pieces made from only the best Czech beads. All the pieces are handmade by Zulu master beaders and are really quite beautiful. When I wear mine they are always commented upon. Hopefully, the zoom feature of this site will show just how lovely they are.
While most pieces could be described as dramatic, many necklaces are quietly elegant. The combination of colours is done with great effect.
Jane took the craft of Zulu beadwork to new levels, combining a traditional skill with contemporary designs to create jewellery which delights the senses with their richness and colour. Jane Bedford designs have been sold around the world, including to Harrods.
Based in Durban, South Africa, Jane Beford Jewellery was founded in 1985, with Jane's vision being to empower local women through the art of beadwork. Over 20 years later, this vision continues.
The company is now operated by Abacus. Numerous skills development programs are in place to give their employees the opportunity to grow beyond the business. Abacus is in the process of working towards certification with the International Fair Trade Organization.
The beaders consist solely of rural women from the surrounds of Durban, South Africa. The business gives them a platform for their beadwork skills, as well as the means to support themselves and their families.
Some of the comments I have received back from clients who have purchased a Bedford piece are:
"I love the necklace, they are gorgeous !"

"Parcel arrived safely, thank you Louise……… and the necklace is superb."
"Wife is delighted and I have regained many lost and many new brownie points. We were at a get together this evening and all her girlfriends were most envious and astounded at the beauty of the necklace."
Additional Information
| | |
| --- | --- |
| Weight | 0.18 kg |
| Dimensions | 26 × 6 × 2.5 cm |